Abstract
Feelings depend on many aspects of one's life and they are abstract and objective which makes them hard to define and evaluate. Despite the fact that it is really important to characterize and comprehend them to convey their complexities to understand their consequences. Regardless of whether we are aware of our emotions or not, we are compelled to communicate them verbally or in written form to our family or doctors when things are not going right. This adds complexities and makes it harder to understand and find patterns.
In this design report I evaluate data visualisation techniques to better express a person's emotion and mood for them to gain emotional awareness.
Acknowledgment
In the most recent months, I've invested time and energy to understand how a person considers its sentiments and feelings. A huge part of this task was to understand my own emotions and mood and experiences in a better way. As an outcome, I have gotten very interested in discovering opportunities to digitally express feelings as precisely as possible.
A special thanks goes to people who participated in my research surveys and questions and diary study. Especially my family members for their encouragement and friends and colleagues for participation.
I would also like to thank professor Martin Colbert for his valuable input and guidance for this project to be in the shape that it is today.
Introduction
Context
Everyone has feelings but feelings are hard to explain to someone else in verbal or written format. Feelings are hard to define. At the point when we experience feeling, our intellectual impression of it and our responses to it are emotional and not constantly detectable. Indeed, feelings are our driving force for our relationships and communications with each other. However, oftentimes, we ignore or overlook how we feel before taking an action.
Motivation
The motivation for this project arises from the fact that around 1.4 million people referred to NHS mental health therapy in the past year. Over one million referrals to NHS talking therapies for depression and anxiety were made last year according to the new official data. Regardless of whether one has a grip on their experiences and can somewhat communicate with them, there are still territories in which they depend on patients' willingness to share and remember. There is a need to record emotion as they happen.
Hypothesis
The way toward recording and visualising mood and emotional information can prompt feeling mindfulness. It can make us aware of our inner workings and through this new, visual medium, one will be allowed a chance to ponder on their feelings in a nuanced way and accordingly communicate their experiences and emotions in an effective manner.
Aims and objectives
This research should be used for accounting and perception of emotional information and to what degree a portrayal of experience can help express complex feelings. The point is to give a channel to a user to take part in and think about their feelings.
Method
For testing out the hypothesis a blend of techniques were used and the approach was to apply and iterate these techniques to arrive at decision. In the first place, interviews were conducted to figure out the settings in which a user would like to record their emotional experiences. Second, a diary study was conducted for the user to record feelings as they happen on paper in terms of Wundt's emotional dimensions.
Intended Audience
The report gives an elective point of view to experts in the fields of psychology, psychiatry, and emotion/feelings/mood research.
Literature Review
Charles Darwin can be ascribed with the first achievements in emotional research, which he did so as to help his hypothesis of advancement in the late nineteenth century. In his examination of articulation in vertebrates, he discovered the genuine broadness of feeling as a subject of research. Since Darwin, there have been numerous ways to deal with the definition and association.
In 1896 German analyst Wilhelm Wundt spearheaded the dimensional-way to deal with feeling, utilizing wonderful upsetting and low-high power to disseminate impacts (the experience of feeling). He accepted the depiction of abstract inclination was conceivable through thoughtfulness. He postulated dimensions of emotional experience, namely, control, intensity, arousal, valance, conduciveness, triggers and reaction.
After Wundt, a few specialists and therapists have created substitute dimensional models. The vast majority of the predominant models are two-dimensional utilizing excitement and valence. Robert Plutchik's three-dimensional model measures feeling through eight essential feelings (four sets and their contrary energies) just as the extra component of power.
Emotional Awareness And Self Knowledge
Through a superior comprehension of our experiences, we can furnish ourselves with better methods for dealing with stress. We realize what works for us, which encourages us to increase enthusiastic mindfulness and by and large self-information. To cite the general truth and Greek truism, "Know thyself." Self-information has been from the beginning of time came to by the way of internal thoughtfulness and self-exposure.
Diary Study
Emotions vary from person to person and it is impossible to formalize a language, visual or not, for emotional data. However, there might be enough common ground between human experiences to put together a system for expression and begin a conversation. Currently, and in the past, this conversation has typically taken place either in a therapeutic setting or internally, often in the form of writing.
Self Experiment
For the diary study I self recorded my feelings for a week in terms of Valence, Intensity, Control, Arousal and Reaction. The 5 postulates of Wilhelm Wundt of dimensions of emotional experience.
Group Recordings
After tracking my emotion, I asked three people to use the system to track their own emotion data for three weeks. The results were quite similar.
Results
Summary Of Overall Findings
The responses to this experiment were very eye-opening for me. I made some assumptions that conduciveness and arousal would be the most difficult parameters to record. Which turns out to be true because many participants struggled with expressing conduciveness.
One participant said valence, intensity and arousal felt like they better describe the actual feelings I was experiencing, whereas control and conduciveness felt like they were assessing my feelings about my feelings." It was also suggested that valence should set the tone for emotion tracking, so users would start out naming the emotion as either positive, neutral or negative and then go on to its nuances.
Visualisation
Through recording and interacting with their own data, a user becomes aware of the existence of their feelings. In the case of emotion, a process which occurs largely invisibly, a visual system was needed to be designed such that a user can then see the connections between their behaviors, personality traits and their emotion experiences.
Personas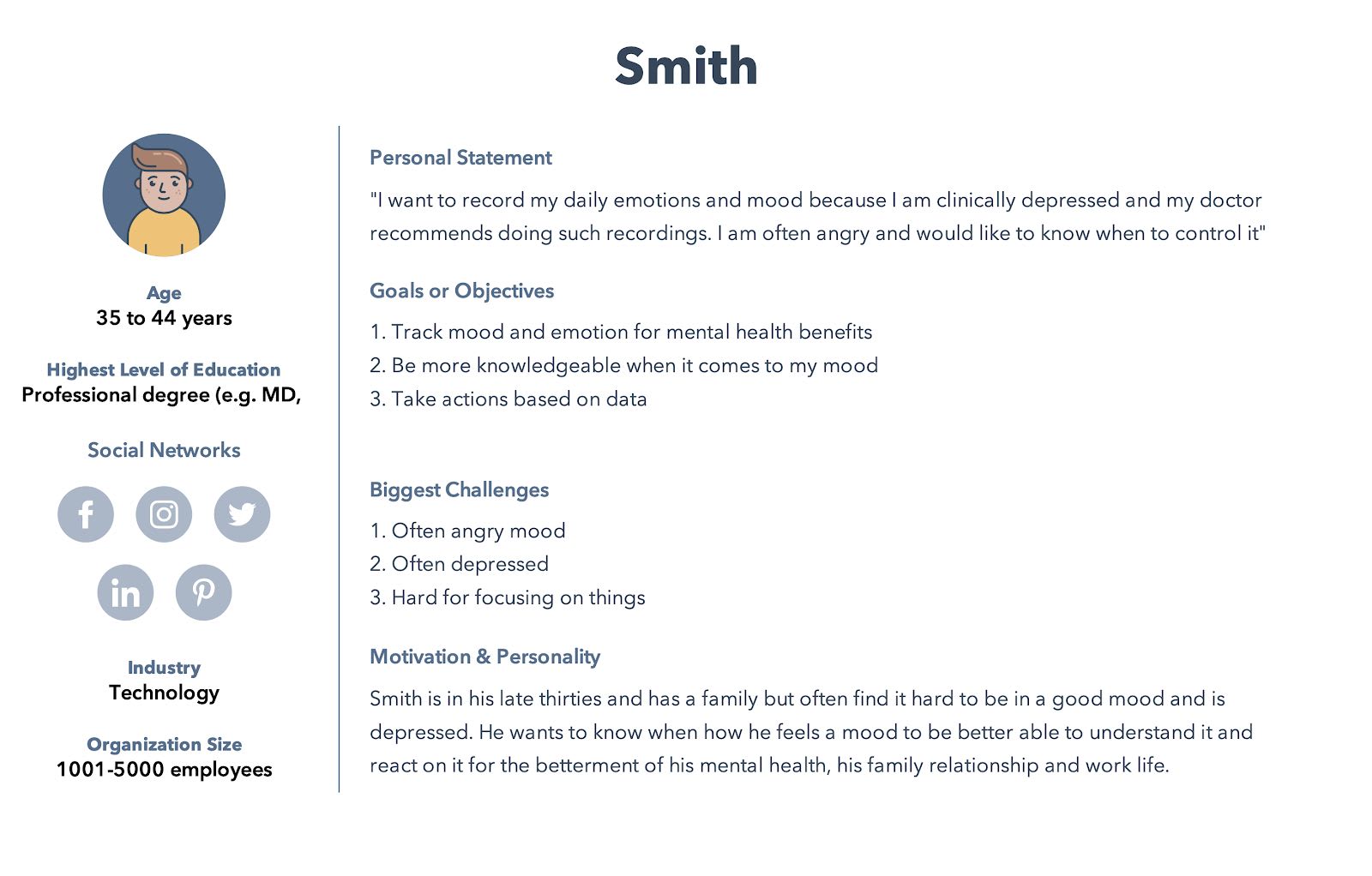 Design
When exploring further how the representations could look like, the initial iterations of visualizations tended to follow traditional patterns. These were quite recognizable as mainstream data visualization. In two ways, I found that these explorations weren't expressive enough for emotion data. First, they lacked the inclusion of the contextual data in an emotion experience. The who, what, when, where and whys of the circumstances which triggered our emotions. The second way is their neutral, dull representation of a concept that is expressive by nature.
The application consists of three main features:
Visualization
Recording
Analysis
The Tree
The visualization of emotion is meant to be an attempt to make visible a process that is in large part invisible and only partially perceived by the one experiencing it. It must reflect the narrative quality of our personal histories, even if only as a visual metaphor. In order to do that, the visualization must be engaging. What we make of our emotional experiences helps us create our identity.
There are several layers of abstraction in this depiction of emotion. When writing in a diary, one transcribes the events or feelings as they occurred. With this representa-tion, the narrator is a character in the visualization, whose form and surroundings change daily. The experience of recording emotion, explained in the next section, allows the visualization to encompass what is typically recorded while journaling. This process encourages internal and external mindfulness, yielding a distilled visual output of ​what caused​ our emotions and ​how they​ made us feel holistically.
This means that a visualisation was required that represents all the aspects of an emotion. For this reason, a tree was used as a metaphor because a tree can have multiple layers of abstractions. For example, a three can have roots that go deep inside giving the tree a firm base, in terms of an emotion it means that person had greater control. Similarly, a trunk of the tree can represent varying intensity of emotion. The valence can be represented by the color of the background. The number of branches and leefiness can represent reaction and arousal.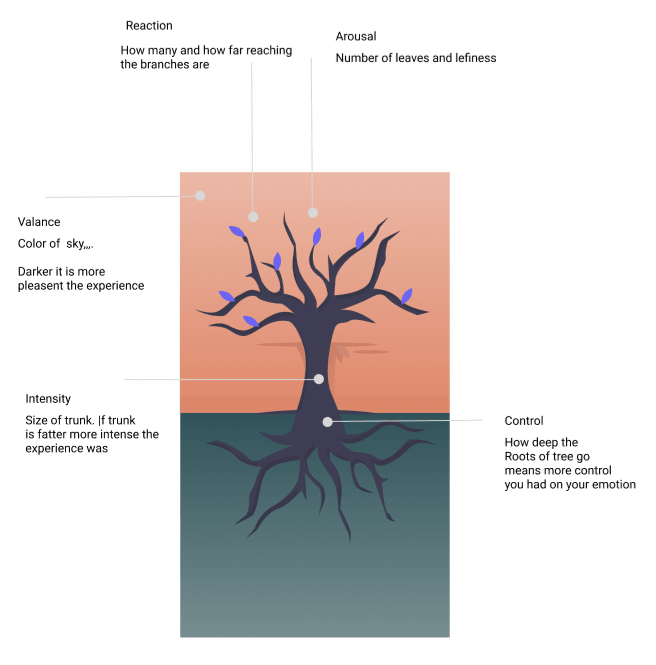 Anticipation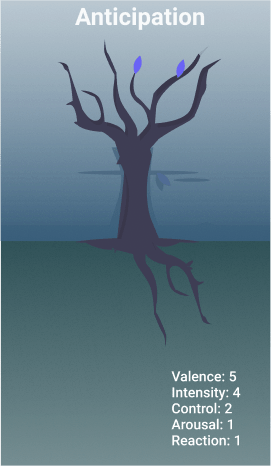 Irritation
If the emotion is of irritation and the person has no control over it, it means the tree has very tiny roots and this emotion can be considered as a weak emotion. However, the arousal and reaction is too high as represented in the visualisation, which means this tree can fall any time, or the person can have a breakdown and should look into it.
How To Record An Emotion
A further objective of this project is to create a system for a person to record an emotion experience. The final system uses the five dimensions in order to capture the emotion experience holistically first, before the us.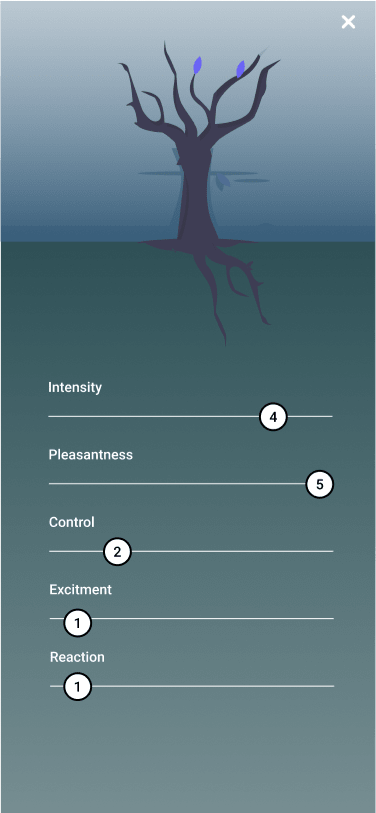 Forming A Narrative
The end goal for this application was to provide a simple and guided way for a user to track their emotional experiences, establishing an emotional history for better understanding of one's emotions and also giving a database to look at and reflect upon for better awareness. In ​Narrative Truth and Historical Truth​, Donald P. Spence writes that the goal of psychoanalysis is to "empower" the patient to "describe the indescribable,".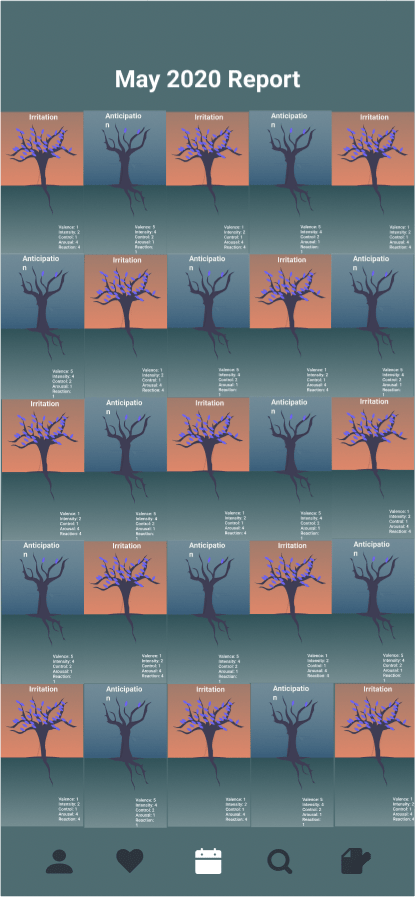 CONCLUSION
Designing For Emotion
The inevitable challenges for the emotion research and social science community are the lack of consensus on definition and means of measurement of emotion and the reliance on layperson and self-reporting for empirical studies. However, with the correct set of questions and dimensions one can design for emotion with the intent of starting a conversation. A metaphor is there for the ideal candidate for designing for emotion in terms of visualisation.
Discussion and Outlook
This thesis investigated a system for emotion experience recording, a visual language for representing emotion and a digital experience prompting reflection. Ambitiously, its intent is to begin a conversation between two branches of knowledge and point to places where they can influence one another. The design solution presented is just one iteration of a tool for gaining emotional awareness.
References